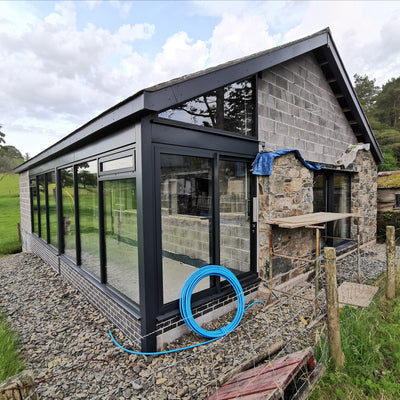 She's coming along folks! 
Here's a little update in the developments of my workshop/gallery/studio/hangout. I finally have the windows and doors installed by Arwel and Iwan and they have done a smashing job. Let's hope they come back monthly to clean! 
After a week of reclaiming stone from the outside toilets of the old school, John the builder is now able to crack on and is creating a beautiful front to the building. I can't wait to invite you all here, whenever that may be. 
Tomorrow evening, Thursday July 2nd @ 8pm BST,  I'll be updating the online shop. I'll have quite a few studs, some much requested pink numbers and a few classic pieces. Hope you're all keeping well. Missing each and everyone of you. xxx
××××××××××××××××××××××××××××
Ma' hi'n altro, latch! 
Llawer ohona chi'n holi ynglyn a datblygiadau'r gweithdy/stiwdio/galeri/lle am barti a dyma lle 'da ni arni! Drysau a'r ffenestri i mewn gyda diolch i wasanaeth arbennig Arwel ac Iwan ac yn edrych 'mlaen i'w cael yn ol i Nebo yn fisol i'w 'llnau! 
Wedi wythnos dda o olchi a pharatoi cerrig o' r hen doiledau tu allan i'r ysgol, mae'r adeiladwr John Davies (sydd ond yn byw dros lôn!) wedi ddefnyddio'i grefft i greu gwyneb cwbl hyfryd i'r adeilad. 
Edrych 'mlaen i allu eich gwahodd draw yma, pryd bynnag y bydd hynny. 
Nos 'fory am 8yh (Gorffennaf 2il) mi fydd diweddariad i siop y wefan. Dipyn o styds, darnau pinc a'r clasuron. 
 Gobeithio fod pawb yn cadw'n iawn. Methu chi gymaint. xxx